Material: Genuine Leather
Color: Brown
Style: Sketch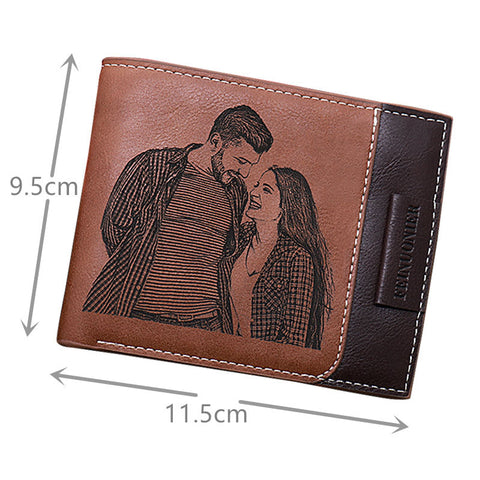 How To Order:

1. You can upload about people, animals, landscapes photos of yours and so on.

( Photo Tips: Please use clear and no-reflective photo )
We will process your photo so that it can be engraved on the wallet more perfectly.

2. Also can engrave text on the back of the wallet.

3. You can choose whether to buy a photo card. We will produce according to the photo you uploaded. Then add to cart.

4.folder if you can't find it) Make sure all info is correct.

5. Please allow 3 -5 business days after confirmation for production.

6. We will send out notification again when your order is ready to ship.

If you have any questions, Please contact us anytime.
Contact Us: hi@jewlria.com


A photo captures a moment that is gone forever and with our Genuine Leather Photo Wallet. The Photo Will Never Fall Off! And this Photo-Wallet is designed to provide you with a quick and easy way to create a unique and useful souvenir.
Shipping
How soon is each order shipped?
Please allow us up to 2 Weeks to customize, complete and deliver your order to you. We understand that you would prefer to have your order with you at the earliest. We want you to receive and start enjoying your jewelry order fast.
How is my order shipped?
We ship all orders either via Fedex or USPS (postal Service) in USA, and via Fedex or Canada Post in Canada. All orders come with tracking number, and once your order is shipped, we will email or text you, wit... Read more>
Return
How long it takes to get the money back?
Once the refund is processed back to you, we will send you an email confirmation for the same. Please note that for credit card transactions it will take between 2 to 4 business days for the money to be back in your account. For paypal transactions, the refund is instant... Read more >